Red Pumps Can Be a Conservative Business Woman's Best Friend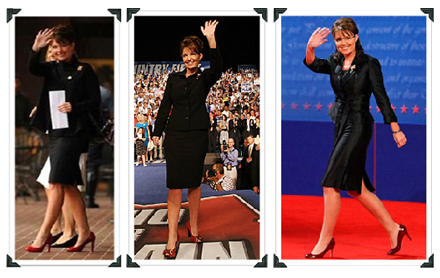 Take a Cue from Sarah Palin
New York Times best-selling author, Sarah Palin, is not only an accomplished writer, governor, and mother; she is also an impeccable dresser.  It was apparent during the election and it shows up in her book tour.
You can see Palin has chosen a black top, black suit jacket, and a deep charcoal grey skirt.  The combination is brilliant.  It shows off her toned legs, the silhouette of the outfit is balanced, the colors look great on her, and the shoes take what could have been a bland outfit and give it a bit of edge, a splash of color, as well as showing the world, there is an energetic and confident woman walking in these steps.
And, for the lip color, the base is best if it is red with brick undertones; which calms down the red.  Allowing the wearer to have a bit of red to brighten her face, yet with the brick color mixed in, adds a soft and traditional look for the woman.

The red patent pumps in the photograph are marvelous and beautiful.  The heel is a moderate heel, which works perfectly for a business suit.  The inside of the shoe is quilted, much like a Chanel product, and the quilting has a bit of padding in it. The vamp comes to a point, yet the shoe has plenty of toe room and despite the pointed toe, the shoe is actually comfortable.
The red high heels are actually very flexible, they work well with jeans and a T-Shirt, jeans and a dressy shirt, mink coats, short dresses, long dresses, and for women's business suits.  Plus, red is a very neutral color.  There are a myriad of colors and color combinations this shoe will pop when paired together.
Mix It Up
Try several different color combinations and you will be surprised at how well this color works with other women's clothing.  To help you get started are a few ides: black, purple, animal print, white, brown, navy, silver, gold, yellow, brown…feel like we're just getting started and it's time to go.
Oh well, it was said before, these red shoes are flexible…in more ways than one.
Leave a Reply